What is UserTesting?
UserTesting.com is a US based company which offers a platform where clients pay freelancers to review new websites, products, and mobile apps. The goal of UserTesting is to identify any issues or problems with the product or service from the perspective of the user, and to gather feedback on the overall user experience.
Using video or live interviews, freelancers record themselves accessing the website or product, giving insightful feedback on their experience. Companies then take this real human insight to make improvements to offer a higher quality, user friendly product.
Table of Contents
How to Apply to UserTesting?
To apply to be a tester for UserTesting, sign up with your email on their applicant website. You'll then create your UserTesting account, which includes basic information like your name, postal code, and PayPal email address.
Once you submit your information, you'll have to take a qualification practice test in order to get hired. The practice test takes about 7-10 minutes to complete. All instructions on how to download the needed apps and software is given, as well as a pre-test tutorial on what's expected. You can come back at a later time to take the test if needed.
Requirements
18+ years old
Active PayPal account to receive payment
Live in:

| | | |
| --- | --- | --- |
| Argentina | India | Singapore |
| Australia | Indonesia | Spain |
| Austria | Italy | South Africa |
| Belgium | Japan | Sweden |
| Brazil | Malaysia | Switzerland |
| Canada | Mexico | Thailand |
| Colombia | Netherlands | United Arab Emirates |
| Costa Rica | New Zealand | United States of America |
| Denmark | Norway | United Kingdom |
| France | Philippines | |
| Germany | Poland | |
| Greece | Saudi Arabia | |
Operating system: Windows 7, 8 or 10.
Memory: At least 1 GB of total RAM and 600MB of available RAM.
Free disk space: At least 7 GB of free disk space.
Browser: Chrome, Firefox, Edge
Upload speed of at least 3.0 Mbps
Operating system: OS X 10.7 or higher
Memory: At least 1 GB of total RAM and 600MB of available RAM.
Free disk space: At least 7 GB of free disk space.
Browser: Chrome, Firefox, Safari
Upload speed of at least 3.0 Mbps
Operating system: iOS 14 or higher
Memory: At least 400MB of available space on your device
Operating system: Android OS 7.0 or higher
Memory: At least 400MB of available space on your device
Pass the Qualification Practice Test

After signing up for an account, you'll be able to log in to your user dashboard. Go to the Help Center tab where you'll see lessons on how to getting started, how to test on a computer, how to test on a mobile device, tutorials, and more. Here you'll find all the information needed to download the software and how to complete tests. You will need to take the practice test through the mobile app, but once hired, you can work on computer tests only in the future if preferred.

The practice test consists of similar tasks to a real test and should take you about 7-10 minutes to complete. The test should be easy to pass as long as you follow all of the instructions and have good quality audio.
For Example:
You may be given a website for a business and asked to find the opening and closing times. You will need to orally dictate your thought process on while completing the task.
'This website seems to be high quality with a good user experience and high quality content.'

'It is easy to locate on the website where the business hours are due to clear navigation.'

'The font that the hours are in may be a bit small and would be better if it was a darker color against the light background.'

'I can easily see that the hours for the business are from 9am to 9pm Monday through Friday, and 10am to 10pm on the weekends.'

"There's also a lot of additional, helpful content that users may be interested in like a map, parking information, etc, etc..'
Quickly answering questions and completing the tasks will not get you hired. They are expecting thoughtful, detailed feedback. Even if you feel like you're talking too much about the smallest details– it's better than not giving enough information.
Another reason people do not pass the test is due to bad quality audio. Make sure your voice is loud and clear and not cutting out anywhere. Be sure to take tests in quiet areas with no distracting background noises.
Once you submit your practice test, you can expect to hear back from UserTesting within a week, although wait times may vary on how many applicants they have. You should receive an email pass or fail, or you can check on your check list in your dashboard.
What if I Fail the UserTesting Practice Test?
If you fail your qualification test, according to the UserTesting help page, unless there was some type of technical issue, they don't seem to offer retakes (although a few people said they were able to retake the test after contacting support, so it's worth a try).
'How many times can I apply?

If we determine there is an issue with your first practice test submission, we may provide the opportunity to resubmit your practice test. However, if we do not ask you to resubmit your practice test, then we ask that you do not re-apply.'
Prolific Surveys – Best Survey Site With Higher Pay
How to Qualify For a Test
Now that you've been hired and are ready to start working, go to your dashboard and click the 'Available Tests' tab to see all the tests that are currently available. The page updates without refreshing so new tests will pop up automatically. When new tests are added, it'll make a 'ding' sound.
When viewing available tests in your dashboard, you will see various tests with different requirements– some requiring specific devices or browsers as well as live interview tests (these pay more and can take up to 1 hour to complete).
Most tests will show a screener, which has multiple choice questions that you'll need to answer to see if you qualify for a test. Screeners can be about your employment experience, likes and dislikes, shopping habits, hobbies, gender, etc. Each test creator is searching for a specific demographic so don't feel bad if you're not chosen off your screener answers.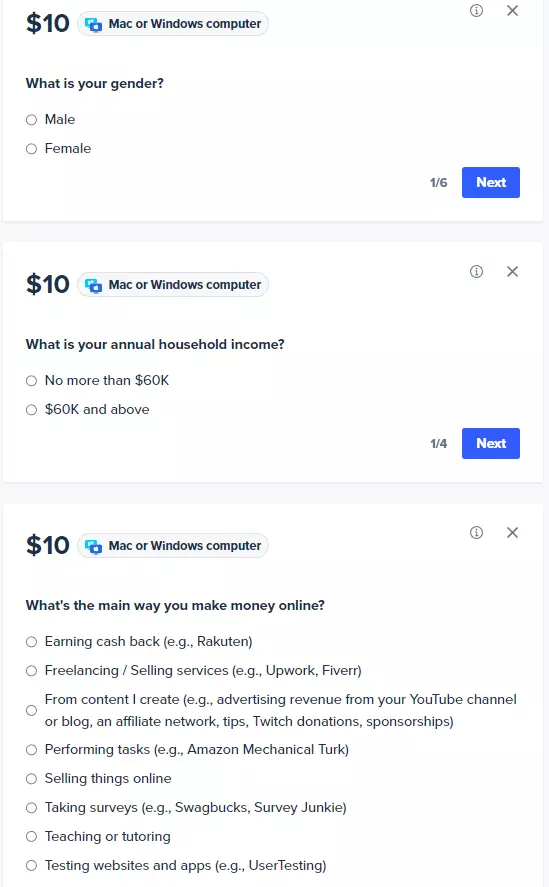 How to Complete a Test
UserTesting consists of computer and mobile device tests. There are also two different test types for both computer and mobile tests; one where you self-record your browser and audio, and another that's a live, 1-on-1 conversation with the tester.
Self-Recorded Test
If completing a self-recorded test, you'll need to record your screen and audio with the UserTesting browser recorder software. Computer tests use a browser extension and mobile tests have a separate mobile app found in the Google Play and Apple app store under "UserTesting"). See more instructions on how to download the UserTesting Browser Recorder.
After applying for a test and passing the screener, you'll begin the test by being shown a website or product as well as a pop-up box that has 5-10 steps of instructions and questions for you to answer. Be sure to take your time and answer all of the questions thoroughly.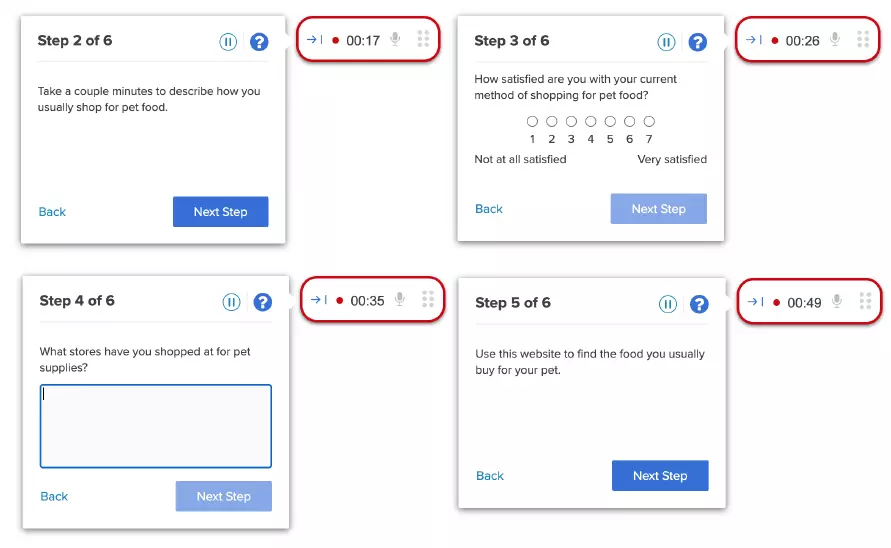 On average, each test takes about 10 to 20 minutes to complete. Once you finish all of the tasks, you simply hit 'Stop Recording' and your recording will be automatically uploaded and submitted.
Live Conversation
The 1-on-1 Live Conversation tests will require you to schedule a time with the test creator where you will answer questions and give your feedback live over Zoom. These tests usually last 30-60 minutes and are higher paying ($30-60 per test). The test creator may ask you a few personal questions like where you live and what you do, but for the most part you'll just jump right into the test questions.
It's best to arrive to the Zoom meeting 10-15 minutes before the scheduled time to troubleshoot any issues you may have. If you don't show up within 10 minutes after the scheduled time you will not be able to join the meeting and won't be compensated.
If the test creator cancels a meeting less than 24 hours of the scheduled time, you will receive partial payment. If they don't cancel the meeting and don't show up after 10 minutes, you should contact support and you will still be compensated the full amount.
UserTesting Ratings
Once your work has been reviewed by the test creators, they have the ability to rate your work on a scale of 1-5 stars. If you receive a review of 2 stars or lower, the Quality Team will review the test to see if the rating is legit. They'll also send you helpful information on how you can improve on the platform.
A good rating would come from following all directions, answering questions thoroughly, giving helpful feedback, and having a good quality recording. If your quality audio/video quality has issues, you don't follow directions or complete all the tasks, or your answers are short and vague, you may get dinged with a bad review.
Having higher ratings is said to get you more test invitations. Too many low ratings can slow down the number of test invitations you see. As long as you're not performing poorly, I wouldn't worry about it. Most of the test creators don't bother reviewing tests at all.
How to Get Paid by UserTesting?
After completing a test, you will be paid 7 days after the date of its completion. At this time, UserTesting only pays in USD with PayPal. You can easily convert that to your local currency in PayPal. There are no payout minimums. If you just do one test that week, the following week you will receive $10 to your PayPal account.
On your dashboard, go to the Test History tab to check your earnings and payment status. I've never had any difficulty or problems receiving payment. Like clockwork, I've always received payment 7 days after taking a test, almost down to the exact minute.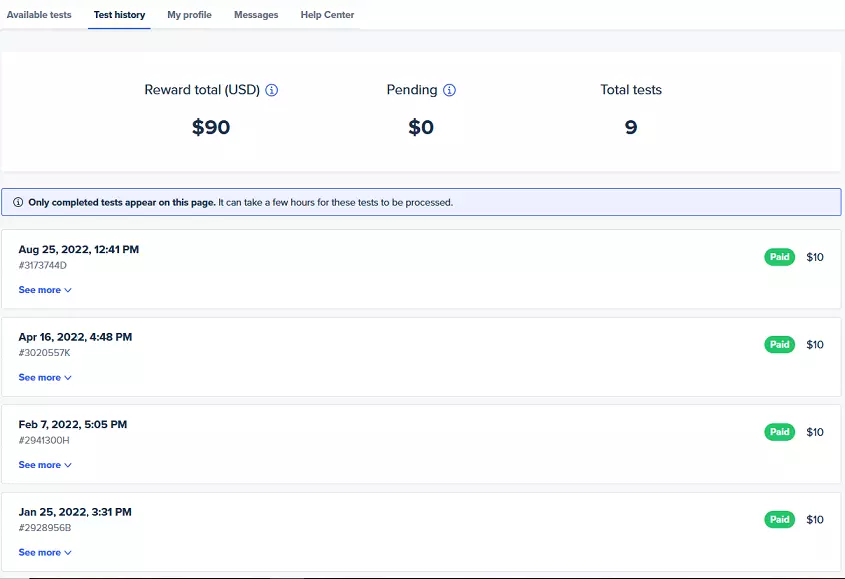 How Much Money Can You Make With UserTesting?
The majority of tests pay $10, although you will often see a few $30, $50, and $60 tests. Since each test takes about 20 minutes max, you can expect to earn $10 per 20 minutes. Keep in mind, it may take some time to find tests you qualify for, so if you're lucky, you may be able to complete two tests an hour, earning $20 per hour.
There can be some dry periods where there are few to no tests available, but on average you can expect to see 5-15 test invitations on any given day. Average monthly earnings seem to be all over the place according to users on popular work-from-home communities online.
Users seem to earn anywhere from $20-$300 a month on average, with some boasting $500-$1000, although these figures don't seem to be common. You won't be able to make full or part-time income from UserTesting.com but it is great for a few hundred bucks a month while working from home.
Is UserTesting a Scam?
UserTesting is definitely not a scam. The company has been around since 2007, and has been a well known and popular work-from-home opportunity on remote work online communities for many years. They are based in San Francisco and are a publicly-traded company ($USER on the NYSE). UserTesting.com is a legitimate work-from-home, remote gig work company and you definitely will get paid.