This review is for Teemwork.ai UHRS micro task jobs. The UHRS (Universal Human Relevance System) Online Crowd Worker job at Teemwork.ai is an open marketplace where you can access and work on many different micro tasks on your own schedule and get paid per tasks.
Table of Contents
Tasks
Search & Ads Relevance
Transcription & Annotation
Video & Image Annotation
Bullying and Moderation
Website Description Quality
Comparing Image Results
Voice Comparison and Speech Naturalness Ratings
Site Name Verification
Business Address Verification
Product Availability
Spam Labeling
Website and Topic Relevancy
There are many different types of tasks on the UHRS marketplace. For example, for a Search and Ads relevance task, you will rate if an ad shown is relevant to a search query. The speech tasks will have you rating how natural an audio clip of someone speaking sounds. Or for Bullying and Moderation, you will rate if any comments left in public forums would be considered bullying or hate speech. These are typically quick tasks where on average of 10 seconds to 1 minute is spent per task.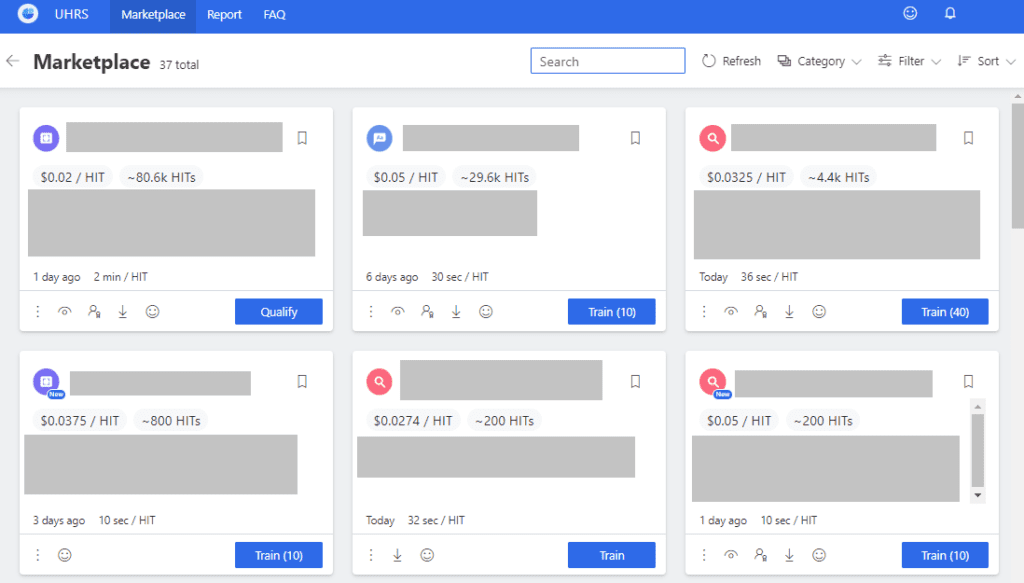 Payment prices vary from $0.01-$1.00. The high priced tasks usually have less hits available with lower priced tasks being almost unlimited. Most tasks require you to read a short guideline and pass a training of about 10 sample tasks before you qualify to work. These are fairly easy to learn and pass and the whole process shouldn't take you more than 10-20 minutes to complete.
On any given day there are between 20-50 different micro tasks to choose from. Sometimes, all though not often, there are very few tasks available. I've noticed the few times I've seen less than 20 tasks were around holidays like Christmas and New Years. There also seems to be a bit less tasks on the marketplace towards the end of the month.
UHRS crowdsource freelancers are able to work as little or much as they want. There are times where I didn't complete any tasks for months and times where I worked 10+ hours a day. One of the great things about being a UHRS online micro task worker with Teemwork.ai is that you're not micro-managed. Once you get hired you're pretty much on your own and can work as much or as little as you please.
Accuracy
There is an accuracy level that must be maintained of around 75% before getting kicked off a task. Usually if your accuracy drops below 75% you will get a notification saying you're kicked off for the rest of the day and it will be available again tomorrow. It seems most tasks you can get kicked off three times before you're completely off the task for good and it will stop appearing in your marketplace. Maintaining high accuracy scores is important but it isn't the end of the world as there are many other tasks to work on and new tasks are added all the time.
Just a word of warning, going to slow or too fast will also get you kicked off the task for the day. Try to stay within the recommended time frame given. Typically, the tasks are relatively easy and can be answered within a second or two so it can be easy to get carried away and move too quickly.
How Do I Apply for Teemwork.ai UHRS Micro Task Jobs?
To apply to work for any job for Teemwork.ai you'll first need to sign up for an account on their website.
You should get a response immediately or shortly after verifying your account creation. Search for the job titled Online Crowd Worker – (Your Country). Hit the apply button and complete the application. You will need to provide your Microsoft Live ID. If you do not have one, you can easily create a new account on account.microsoft.com. It is a requirement since you will sign into the UHRS marketplace with this account.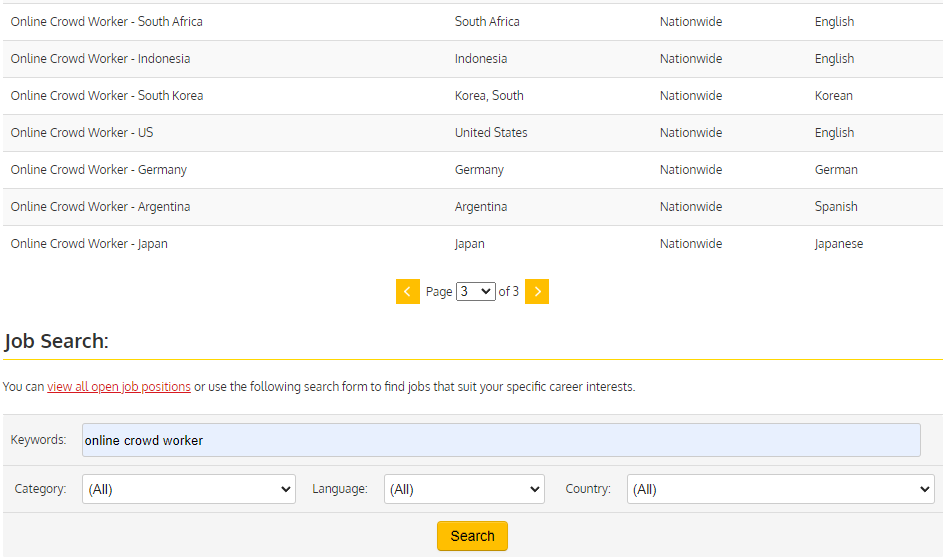 Countries Accepted
Algeria
Argentina
Armenia
Australia
Belarus
Bolivia
Cambodia
Chile
Colombia
Costa Rica
Croatia
Czech Republic
Dominican Republic
Ecuador
Egypt
El Salvador
Estonia
Equatorial Guinea
France
Georgia
Germany
Ghana
Guatemala
Honduras
Hungary
Indonesia
Japan
Kazakhstan
Kyrgyzstan
Laos
Lithuania
Malaysia
Mexico
Morocco
Myanmar
Nepal
Nicaragua
Pakistan
Panama
Paraguay
Peru
Philippines
Poland
Puerto Rico
Russia
South Africa
South Korea
Spain
Sri Lanka
Tanzania
Thailand
Tunisia
Turkey
UK
Ukraine
Uruguay
USA
Venezuela
It seems these are the countries that are currently hiring at the moment. It's not a definite list as countries are at times deleted or added to the list pending on if they're looking for workers.
It's hard to find a definite answer on when Teemwork will get back to you after applying for a position as there seems to be a wide time frame of responses given on various discussion boards and social media. It seems some hear responses within a week, some months, and some never hear back at all.
This seems to be a common theme with many work-from-home job opportunities as more and more people are turning to remote, freelance work. The best thing to do is just apply as soon as possible and hope for the best. I remember hearing back within the month I applied and was able to begin work immediately after submitting any necessary documents and payment information.
Requirements:
Must be 18+ years of age.
Have native language competency of your home country.
Must reside in the country you applied from.
Have a computer and stable internet connection.
Tasks will be easier for you if you have general knowledge of the internet, websites, and search engine queries but it is not necessary as most tasks have quick guidelines you can go over and training tasks.
How and When Do I Get Paid with Teemwork.ai?
Since this is an independent contractor position you will only be compensated per task completed and will be responsible to pay your own taxes according to your country's tax laws since they are not deducted from your paycheck.
Teemwork UHRS crowdsourcing tasks pay out once a month via Paypal, Payoneer, or bank transfer (only for US residents). No invoice creation is necessary. All earnings are recorded in your reports page which updates in real time (maybe a 10-20 minute lag after you've completed a task).
After the month ends you will receive an email with an invoice to confirm which you will complete on your Teemwork.ai account page. The confirmation email usually comes around the 10th-12th of the month. You will need to confirm the invoice within 48 hours or payment will be deferred to your next month's paycheck. You can expect payment in your Paypal, Payoneer, or bank account within 10-15 business days after confirming the invoice. It may seem like a long time but in my experience of working for Teemwork.ai for the past 3-4 years, I've always received payment.
The payment minimum you must reach is $20, which should be easy to meet in a day or two, pending how much you work. Typically doing 4-5 hour of $0.02-$0.30 priced tasks will result in an average of about $20-$50 per day, pending on what tasks you complete. Every so often there are an abundance of higher paying tasks. It's definitely not the norm but I have made over $100 in one day in only 4-5 hours, and many days of earnings above $50.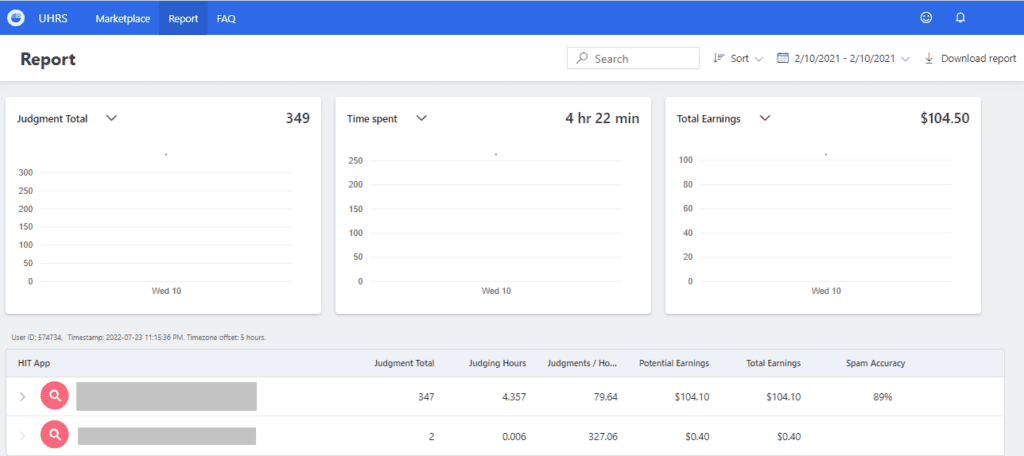 PROS
Always a lot of work.
Many different types of tasks so you won't get bored.
Flexible work, no minimum/maximum hours.
No micromanaging. Once hired you work/don't work as you please and don't report to anyone.
If you need support, they do seem to respond quickly.
CONS
Majority of tasks have low pay per task.
Have to complete a lot of tasks for a good paycheck.
Monthly Payment which can seem longer with invoice confirmation.
Some report long responses to get initial hiring email response.
What is an Appen Search Engine Evalutor?
Conclusion
If you're still unsure if working a micro task job at Teemwork.ai is for you, I'd say to just apply now since it may be a while before you hear back from them. Once you begin working for Teemwork.ai's UHRS online crowd worker job there is no commitment so you can take as much time as needed to actually start working. It's a great opportunity if you're working another job and have some free time to earn extra cash. It's also stable enough to be a great addition to your normal income stream of many freelance gigs you're currently juggling.
Apply for jobs on Teemwork.ai now.