What is 3Play Media?
3Play Media is a Boston based company founded in 2007 by four MIT graduates that offers closed captioning, transcription, and subtitling services. They work with large company clients like Acessible360, Blackboard, Cattura, Cvent, Echo360, Nebula Talent Group, Wistia, and many more.
The company differs slightly from most other transcription companies by using automatic speech recognition technology along with human editors. In order to get quicker and more accurate captions, files are ran through their speech recognition editor first capturing as much speech as it can recognize before being released on the marketplace where freelance workers can choose files to edit and make any corrections the editor missed.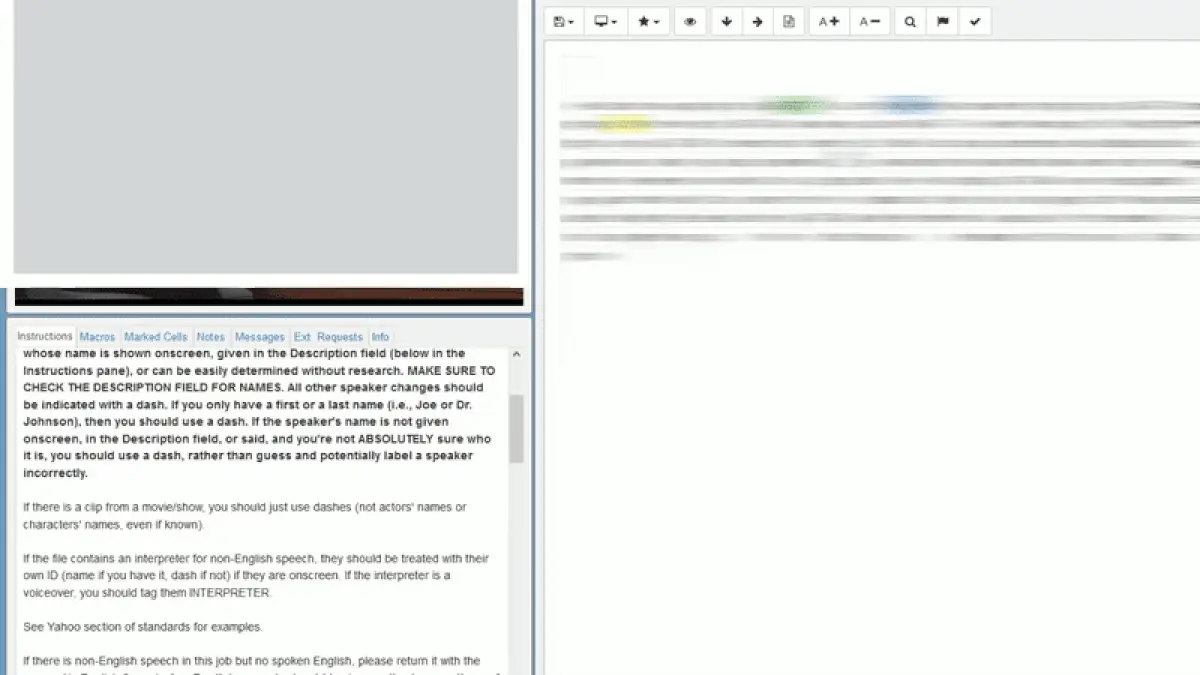 How Do I Apply At 3Play Media?
3Play Media is currently only seeking English and Spanish transcriptionist. To apply head over to their English site or Spanish site.
You will go to the 'Start New Transcriptionist Application' to begin. The whole process, including a short transcription test, will take you about 15 minutes and is encouraged to finish in one sitting, all though you can come back to an application still in progress at a later time if needed.
The application will ask you for your basic information, location, and will give a a short, web-based transcription for you to complete. You will submit your application and wait to hear back with results of passing or failing the first application test. This can take anywhere from a week to months. Of course, there are many candidates who report not hearing back from 3Play Media at all. Typically if they're not hiring at the moment, they'll show a notice on the page immediately after you apply saying so. You can always try again later as the company seems to go through busy and slow seasons.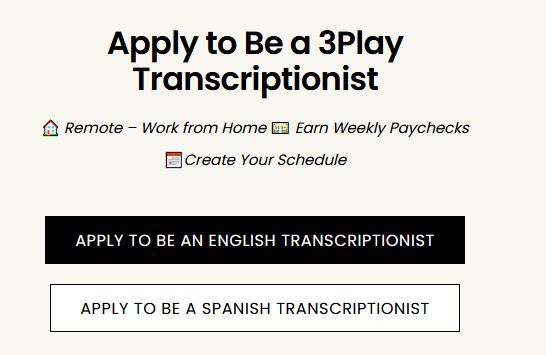 If they are currently hiring, it should not take longer than a few weeks to hear back. After receiving a passing result (if you do not pass, you should still receive an email stating so), candidates will be contacted by 3Play Media with instructions on how to begin the extended application with about a week time frame to complete it.
The extended application includes seven different modules including training from their Standard Guide, video lessons, a short quiz after each module, and a short transcription sample test you must complete accurately. Training and quizzes are mostly concentrated on their Standard Guides for transcribing as well as how to use their editor software.
You're able to refer to the Standard Guide while taking quizzes and completing transcriptions. The extended application's quizzes and transcription test aren't difficult to pass but will require an understanding of their guidelines or at least enough comfortability with the Standard Guide where you can quickly find the correct information.
Compared to other transcription companies like Rev, it seems 3Play Media candidates have a lower success rate of initially hearing back from the company, but once invited to take the extended application, it seems there's a higher success rate of passing and getting hired.
Hard Requirements:
Must be 18+ years old
Based in the United States
Computer or Laptop with a stable internet connection
Soft Requirements:
Excellent written communication skills
Excellent command of English grammar and punctuation
Proficiency with internet research and reference resources
Ability to manage projects and work independently
High quality headphones
Standard Guide and Audits
Like all transcription companies, 3Play Media follows a strict Standards Guide that transcribers must adhere to. Different types of transcription styles are covered like Verbatim vs Clean Read. Labeling and formatting rules are covered like how to use Speaker IDs correctly as well as different flags for special scenarios that may arise in files such as inaudible sections or sound effects.
The Standards Guide isn't too difficult to learn, especially if you have prior experience in transcribing. It will definitely help to leave the the guide open for the first few jobs as a reference but I found after a few weeks I was able to memorize the majority of the rules, which definitely increased my speed and earnings.
3Play Media does conduct random monthly audits to ensure quality for their clients. Transcribers are graded on a 21 point scale separated into 5 different sections: Accuracy, Standards, Grammar, Flags, and Sync.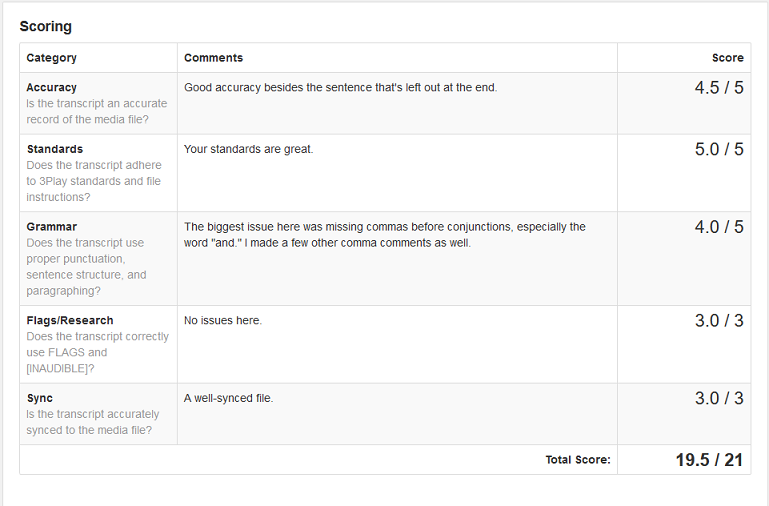 I typically stay in the 17-20 score range, with the 17 point audits leaving a long, stern message encouraging me to review the standard guide and detailing every mistake I made. Too many bad audits may limit the number of hours you're able to work or possibly even lead to termination. The quality assurance team does seem to be more on the lenient side but it's best to have a good understanding of the Standards Guide so you can produce your best work.
How and When Do I Get Paid From 3Play Media?
3Play Media transcriptionists are paid weekly for work completed during the previous week. They seem to only offer direct deposit to your bank using Bill.com. Some have reported that payment by paper checks are also available if requested. You can easily inquire with support in your account dashboard as they're usually very responsive.
After applying and being accepted, they will send you step-by-step information on how to set up an account on Bill.com and link with the company so you can start receiving automatic weekly payments.
After the week ends (standard Sunday-Saturday), 3Playmedia will send an invoice to your email the following Tuesday and you can expect payment in your account 3-4 days after receiving the invoice. There is no minimum payment. You will receive payment even if your earnings are only a few cents.
The average earnings for 3Play Media freelancers seem to fall anywhere between $10-$30 per audio/video hour, pending on how many jobs are on the market. There does tend to be slow seasons a few times a year where jobs are scarce.
While most transcription sites tend to inflate their earning potential, I can personally vouch that it's possible to make $25-$30 an hour on 3Play Media. All though I am a pretty fast typer, I'd say I'm on the slower end of being able to hear speech and quickly understand what was said with out having to rewind a few times. I am still able to complete files quicker and earn considerably more on 3Play Media compared to other transcription sites.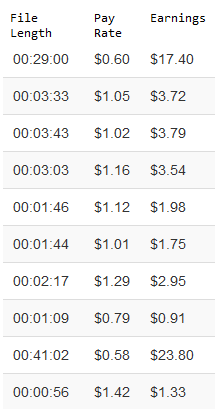 Prices for jobs are determined by the audio quality, length of file, and how close it is to the deadline. Many of the longer jobs (20+ minutes) have lower rates but they typically come from lectures or presentations that have clear enough audio where the auto speech recognition editor picks up the majority of the speech correctly and you only need to go back to proofread and make minor adjustments.

Short news and sports segments also make up a large portion of the jobs. Many shorter jobs (1-3 minutes) may not have the greatest quality or might require a bit more work with multiple speakers. They tend to get passed up by transcribers seeking longer, simpler jobs. This usually adds a small bonus to these shorter files which can add up very quickly.

PROS:
Flexible. Work from home on your own schedule
Weekly pay
No minimum payments
Higher pay than other freelance transcription sites
Easy to use editor
Good quality audio/video
Variety of short/long jobs and type of content
Responsive support
CONS:
Long time to hear back after applying
Periods of low/no jobs
Conduct random audits
Conclusion
3Play Media is a top tier company to work for if you're wanting to work as a freelance transcriptionist. The pay rate is above industry average where freelance workers can earn $30+ per hour. The audio files also seem better quality than most other companies as well as content I personally find more enjoyable. You will be transcribing educational course lectures, sports highlights, clips from movies, TV shows, interviews, and more.
Their state of the art, automatic speech recognition editor makes the transcribing process very quick and simple. The only major downside is there seems to be busy seasons and slow seasons, with slow seasons sometimes lasting a few weeks to months. Still, it is a great, work-from-home, remote job to add to your arsenal of freelance income.
Apply for a 3Play Media transcriptionist job now.