Have you been wondering what it's like to have a Rev transcriptionist job? If you're just getting into the transcription industry or are a long time veteran, you've almost definitely come across Rev.com. It's almost like transcriber boot camp at this point. It may be due to large marketing efforts on their part or possibly due to it being one of the easier companies to get hired. It seems anyone with any interest in transcription has worked for Rev at some point in their online, remote work careers.
What is Rev.com?
Rev is an American company founded in 2010 by a group of MIT engineers that offer clients closed captioning, live captioning, audio transcribing, and subtitling services. They are based out of Austin, Texas and San Francisco, California and work with major media companies including Amazon, Facebook, Microsoft, and YouTube. The work is completed through a large remote network of 70,000+ independent contractors who are paid through a per-minute rate. Clients are charged on an average of $1.50 per audio/video minute while freelancers (Revvers) earn around $0.30-$1.10 per audio/video minute, depending on if they're transcribing, captioning, and the difficulty of the media file.
What's it like working for Rev?
The two main positions for freelancers at Rev are a transcriptionist and captioner.
Transcriptionist Duties:
Listen to and accurately type what's being spoken into a document word file.
Most jobs are just audio-only files including phone calls, interviews, lectures, depositions.
Captioner Duties:
Capture all speech, music, ambience and atmospherics.
Sync the captions to an audio or video.
Most jobs are video files including TV shows, films, YouTube videos, commercials, news updates, vlogs.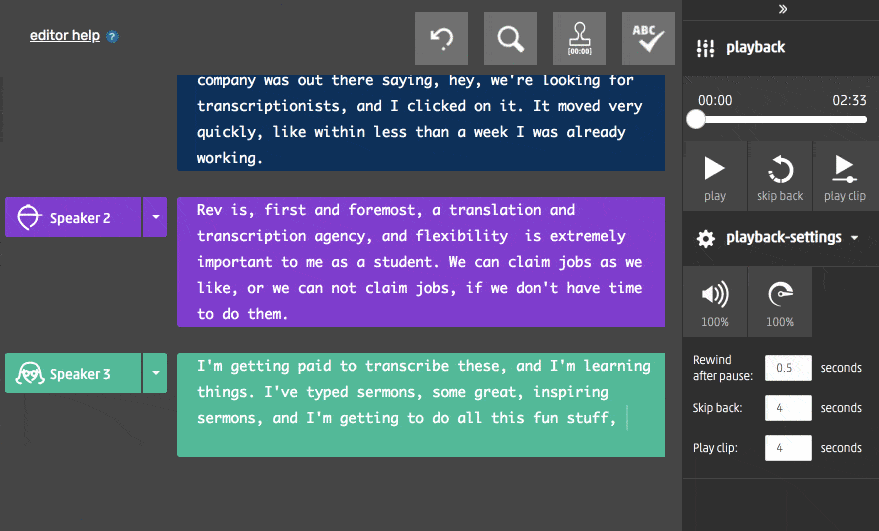 Having worked both positions, captioning was more preferred for me and it seems to be the same for many other Revvers on discussion forums like Reddit and Quora. Often the audio-only files seemed to have worse audio quality than the video files. Maybe seeing a visual of someone speaking does make a difference in accurately recording what they're saying.
The captioning files seemed to pay more on average. There is the additional step of having to sync the audio with the video but it didn't seem to add on more to the task since it can easily be done together while transcribing. You just aren't really able to quickly type freely what you hear in a word document since you'll have to pay attention to pauses and other atmospheric sound effects to have an accurate sync.
Required Accuracy
When most think of a transcribing job they pretty much picture the court stenographer who's typing a mile a minute to keep up with what the speaker is saying. That is the jist of the position but one of the main and most important aspects that will slow you down is the guidelines to be be learned and accuracy that must be maintained.
All files will be graded on a 1-5 scale by a human, quality assurance team member and Revvers need to keep a 98% accuracy. Points will be deducted if the accuracy is incorrect. All words must be transcribed correctly and attributed to their matching speaker. Formatting is also important where audio and video must be in sync and notated according to Rev's style guidelines.
For example, if there is a word or few words that may blank out or be too difficult to hear. You cannot just leave it blank or skip the word, you need to use a correct tag according to the guidelines like:
'The girl went to [inaudible 00:10:05] where she met with her family and friends'.


There is a bit of a learning curve at first, especially if you don't have any prior experience with transcribing. You may need to keep the guidelines open as a reference for the first few weeks while you work but I did find them easy to memorize after about 10 files which allow you to increase your finish times. Full guidelines can be found here.
I will say they are very strict when it comes to accuracy, sometimes to the point of being unfair. Say you produce near perfect files every time and have a bad week where your accuracy drops below the threshold, you will get terminated with out a chance to bring up your rating. If you are dropped from the transcribing position, you can apply for captioning and start over with the grading scale– and vice versa. If you start off with a captioning position and are terminated, you can give transcribing a try.
How to get hired as a Rev Transcriptionist or Captioner
There are no upfront requirements to work as a freelancer for Rev, just a decent computer, internet, and native to strong English language skills. All freelancers must be over the age and 18. Currently, Rev accept freelancers from:
USA (excluding California)
Australia
Canada
Ireland
Mexico
Netherlands
New Zealand
South Africa
United Kingdom
You must be physically located in an approved area, and you must have official identification from an approved location in order to freelance with Rev. In other words, you may have US citizenship but if you are living in another country that's not on the approved countries list, you will not be hired.
If you know a foreign language, there are additional opportunities to earn more money to translate subtitles. Subtitlers earn around $1.50-$4.00 per audio/video minute.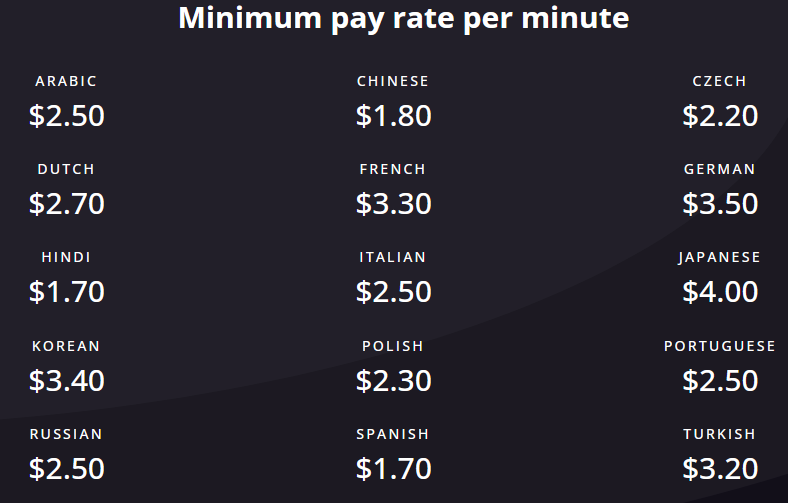 After signing up on the Rev website you will need to take a 20 question quiz first to demonstrate your English and grammar skills. You'll also need to submit a sample transcription or caption based off a three minute file provided from Rev using their online editor. If you are approved, you will be contacted and can then register and start working right away.
Grammar Test Example:
Which of these is correct?
A. My classmates is always talking even when the teacher tells them not to.
B. My classmates are always talking even when the teacher tells them not to.
(correct answer is B)
From my experience and others who've shared theirs, it usually doesn't take more than a few days to a week to initially hear back from Rev and the same amount of time to get notified if you passed or failed the test. Rev was my first transcription/captioning experience and I was able to pass both quiz and sample file with out difficulty on the first try. If you aren't accepted at first, you are able to re-apply 45 days after the initial application. There doesn't seem to be a limit on how many times you can apply.
How and When Do I Get Paid?
Rev only pays out with PayPal at this time and only is US dollars (no fees). There is no invoicing that needs to be done on your part. Prices for different files are always listed before you accept and vary on the difficulty and length of the file. You are only paid for fully completed work, no partial payments. So if you complete half a file and return it to the market (which you can do an unlimited amount of times with out penalty), you will not receive payment. If you do not finish by the file's stated deadline, you will not receive payment either.
Your payments will be reported in your account and you will be paid weekly. Payments are sent on Mondays for files that were completed the prior week (Sunday 00:00 GMT to Saturday 23:59 GMT). They are usually sent around 20:00 GMT and 23:30 GMT.

From others and my personal experience, there doesn't seem to be any difficulty in getting paid. Even if you are terminated, you will still get paid the following week for all work completed the prior week.
Based off a collection of responses from forums and social media, it seems the average Revver (who isn't a professional transcriptionist) earns anywhere from $100-$250 a week, average around $4-6 per hour, pending on how many hours you work and how fast you can work. Of course, the less you work or if you don't work at all, you will not be paid as it's an independent contractor position. No wages or benefits are given to freelancers and you will be in charge of paying your own taxes on a 1099 tax form.
PROS:
-Beginner friendly (learn a lot about transcribing in general).
-Work on your own schedule from home.
-Easy to get hired/hiring often so long as you can pass the initial tests.
-Start work immediately after getting hired and can get paid within two weeks.
-Always a lot of work available.
-Work as much or as little as you want. No Minimum/maximum hours.
-Fast, weekly payments.
-Provides their own editor that's easy to work with.
-Pays in Paypal.
CONS:
-Very strict guidelines, unforgiving terminations.
-Bad audio files that will take longer to complete.
-Lower pay rate for industry (below minimum wage).
-Need to put in a lot of hours for a decent check.
-Work is tedious.
-Only pays in Paypal.
Rev is definitely a good opportunity for beginner, aspiring transcriptionist and captioners who are looking to get into the industry. Even if you are terminated after a few months (highly likely), you can take the skills and transcribing guidelines you've learned and apply for other companies that may require a bit more experience and have better pay. Different companies have their own guidelines but for the most part there is a general industry standard making the learning curve much easier if you move on to another company.
Rev.com is a great, fully remote, work from home freelancer job where you are in charge of your own hours and pay is determined on how often you work. It's a guaranteed weekly paycheck if you are able to maintain accurate transcriptions and work hard.
Apply to be a Rev transcriptionist or captioner now.