Working as an Amazon Mechanical Turk (MTurk) worker is a great way to make some extra money while working from home. MTurk workers complete a variety of micro tasks, including image/video processing, data verification, research, transcribing audio, surveys, data processing, and more.
We'll go over everything you need to know about working as an Amazon MTurk worker including how to get hired, what countries are hiring, requirements, how much you can make per month, and how to get paid. Continue reading for an Amazon MTurk review.
Table of Contents
What is Amazon Mechanical Turk (MTurk)?
To begin, let's first look at what Amazon Mechanical Turk is. MTurk is a crowdsourcing marketplace by Amazon that enables individuals or businesses to use digital workers to complete tasks that computers are currently unable to do.
What are HITs?
Workers get paid per task, known as HITs (Human Intelligence Tasks), that have different payout and time requirements. Most HITs require a few seconds to one or two minutes to complete. HITs that are more difficult and require more time typically pay more than easier, shorter tasks.
When first starting off as an Amazon MTurk worker, you will be limited to 100 HITs per day for the first 10 days. If you perform poorly in this probationary period it doesn't affect your ability to work, but your approval rating will take a nosedive.
Example of Amazon MTurk HIT
For example, you will be given a query of 'bell peppers' and be shown an image result. You have to answer how well the image matches the query. For the example below, 0 items matching the example.

Transcription HITs are also popular where you will hear an audio clip or what a video and write down what is being spoken.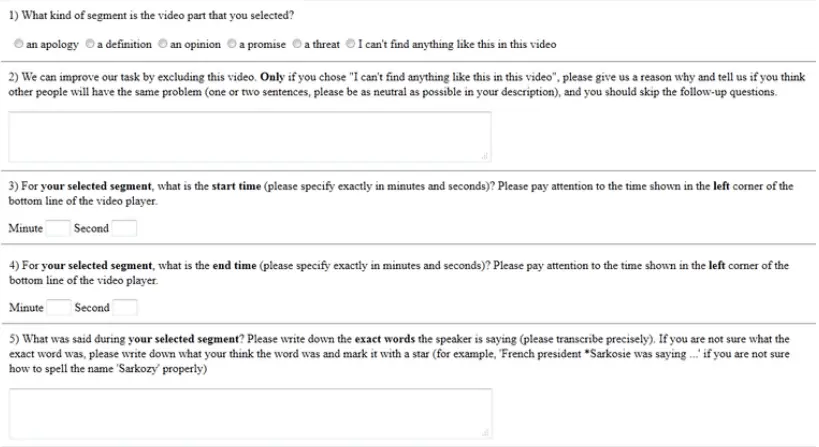 Another HIT example would be where you're shown two different cards giving information about a specific entity. You have to decide whether the two cards represent the same entity. For the below answer, the answer would be 'duplicates'.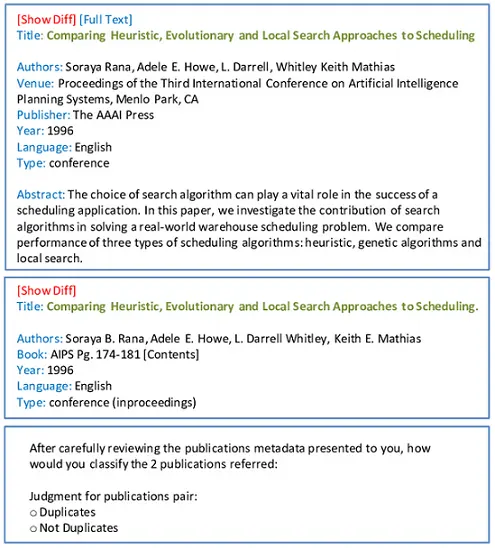 Average Approval Rating for Amazon MTurk
In order to maintain a high approval rating, you will need to maintain accuracy or your HITs will be rejected (which you will not be paid for). Most HITs require a minimum accuracy score, and a higher approval rating to work on better, higher paying HITs.
It seems the average approval rating falls between 98%-100%, so it's not difficult to not have your HITs rejected, so long as you actually pay attention to what the HIT is asking for and complete it correctly.
Performing poorly on HITs can get you blocked from working on that specific HIT group. Blocks can be temporary or permanent and there's usually no way to appeal. You will still be able to work on other HITs.
How Do I Apply For Amazon MTurk?
To apply for an Amazon MTurk work from home position, go to the MTurk Getting Started page and request a 'worker account'. It will prompt you to sign into your Amazon account since your MTurk worker account will be linked to it. You can use your personal account or create an account. An Amazon account is necessary to be an MTurk worker.
After connecting your Amazon and MTurk account, you will need to fill out your MTurk account registration information, including your name, address, and number. After submitting your account information you will receive a message saying they have received and are reviewing your request to join Amazon Mechanical Turk.
How Long Does It Take To Hear Back After Applying For Amazon MTurk?
During the review period, you will not be able to work on any tasks, but are able to browse the dashboard and view HITs to get an idea of how to use the platform. According to the MTurk FAQ, you should receive a response within 3 business days.
According to users on remote work related social media communities, some received responses as soon as the next day, some it took a week or two, and some never received a response at all.
If your application is rejected, you will receive an email saying so, although no reason for the rejection is given. There doesn't seem to be any noticeable patterns on the reasons of who gets accepted or denied. Some people have stated they were offered an invitation many months after being initially rejected, so it's possible if Amazon MTurk aren't currently looking for new workers, older applicants may be put on a waitlist.
You can always try applying again at a future time, although it doesn't seem too common for a previously denied application to be accepted at a later time.
Requirements For Amazon MTurk Workers
18 Years of age or older
Must provide your SSN/tax information
Amazon account
Computer/laptop
Stable internet connection
There's no experience requirement needed when getting your Mturk account accepted nor is it needed for completing HITs. Any necessary information and training to complete hits is usually given before working, although most are pretty straightforward so long as you have basic computer and internet browsing knowledge.
What Countries Does Amazon MTurk Hire From?
MTurk is available for US residents and most international countries that offer Amazon. There doesn't seem to be an exact list published of what countries they hire from. It seems if Amazon's services are offered in your country and you can make an account, you can apply.
According to a recent study by Crowdsourcing Class, workers from 66 different countries reported working for Amazon MTurk.
46.80% US Workers
34% India Workers
19.20% Other Countries
How Much Does Amazon MTurk Pay?
The amount that Mturk workers are paid depends on the HITs that are completed and how fast an individual can work while maintaining accuracy . Each HIT is priced differently, ranging on average anywhere from $.01 per hit to $2.00. There are times where you will see higher payments that may be upwards of $5 to even $100, although these require longer work time and don't show up often.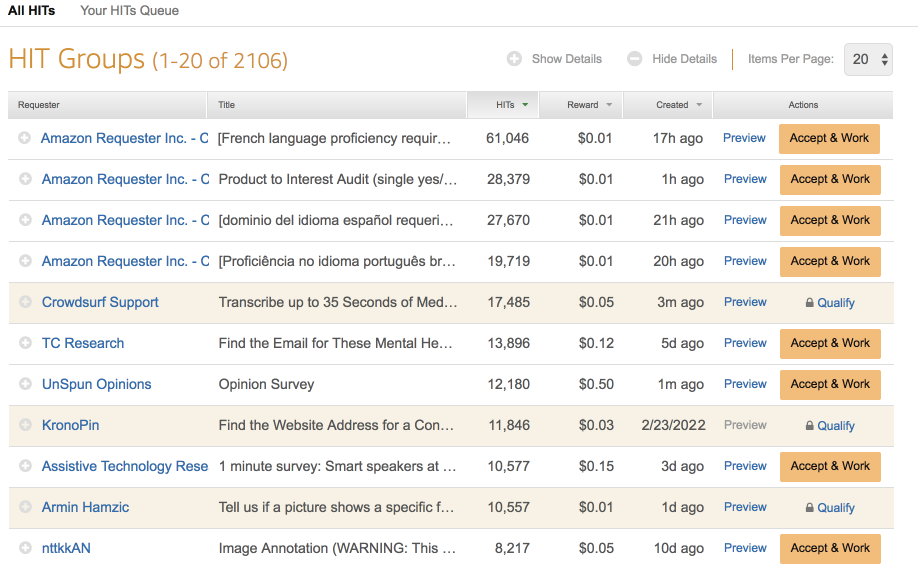 Some of the better paying HITs require a minimum amount of total HITs completed, and a minimum approval rating in order to work on them. So completing many of the easier, lower paying HITs is a good way to build up your numbers to access more work.
You can also complete Batch HITs to earn money faster. Batch HITs are a group of multiple HITs, all priced the same, where you complete them all at the same time. After completing a HIT, click 'accept next', which will take you to the next HIT in the batch.
Many HITs also offer bonus payments to reward tasks being completed as requested and for the requester to award exceptional work. Bonus payments may not be much, a few cents to a dollar, but can definitely add up and increase your overall, hourly earnings.
MTurk Hourly, Weekly, Monthly Earnings
According to users on work from home job communities like Reddit, it seems on average people make $5-$10 an hour, depending on how many hits they complete and what HITs are available. As of 2022, Amazon MTurk workers average around $100 to $300 per week, and realistically anywhere from $500-$1000 a month.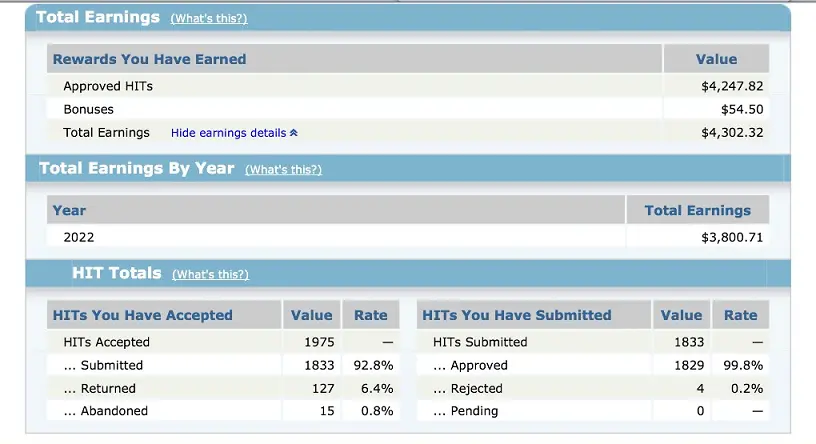 How Do I Get Paid As An Amazon MTurk Worker?
After completing a HIT, the requester will need to approve it before you get paid. Typically, it takes 1-3 days for the approval process. Less commonly, users have reported it taking a week or longer for HITs to be approved.
Requesters have 30 days as a deadline to complete the approval process, which will then result in an automatic sending of payment if not completed. Once approved, you'll see the payment on your earnings page in your account dashboard.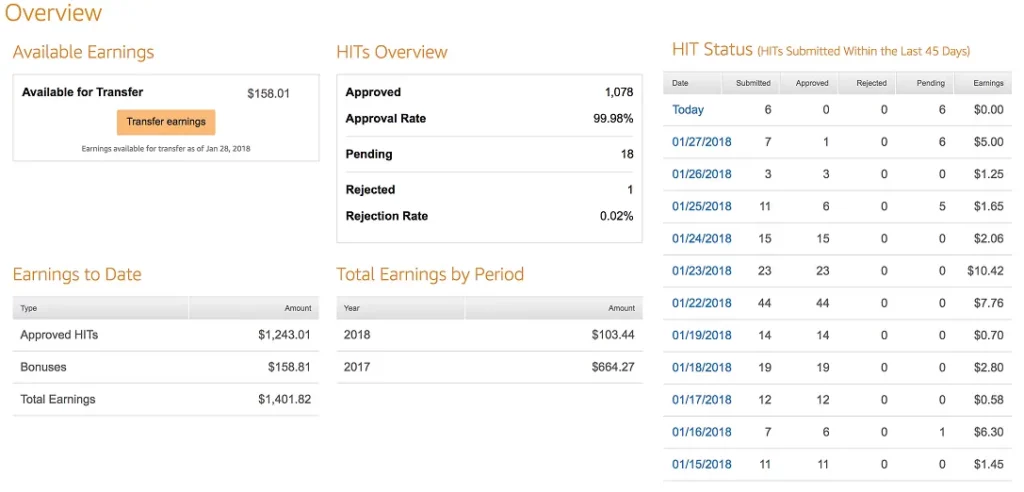 US Workers
Payments are made via direct deposit into a US bank account once per week; however, workers can choose to be paid more frequently for an additional fee. You can also opt to get paid via Amazon.com gift cards.
Non-US International Workers
International workers can only get paid and transfer their earnings to an Amazon.com gift card once per week. Eligible international workers also have the option to transfer earnings to a US bank account.
All payments, whether through a bank account or gift card, are considered taxable income, so be sure to know your country's latest tax code for miscellaneous income.
Get Hired To Work Task Jobs for Microsoft
Conclusion
Amazon Mechanical Turk is a legitimate way to easily earn extra money from home. Working for MTurk is highly flexible with no minimum or maximum hour requirements. How much you earn depends on how much you want to work and what HITs are available.
There are some rare times where there is a shortage of HITs, but for the most part, there is always a lot of work available. It may not be possible to make a full time living off of Amazon MTurk, unless you are somewhere with a very low cost of living and expenses, but it is a great way to make a few hundred to a thousand dollars a month.
Apply to become an Amazon Mechanical Turk (MTurk) worker here.
Be A Search Engine Evaluator for Appen