If you are looking for a legitimate way to make some extra cash on your phone, then Dscout is a great option for you. All you need is an iPhone or Android device. Dscout is a Chicago-based, data market research company that provides an app for users to conduct and record in-depth interviews, surveys, and other market research.
The company has been around since 2011, but it has recently seen a surge in popularity due to the COVID pandemic and the resulting rise in remote work. So, what is Dscout- is it legit, and most importantly, will I get paid? Here is a review of the Dscout app.
Table of Contents
What is Dscout?
Dscout is an app that allows users to conduct video interviews, surveys, and other market research activities. The recordings are used for research purposes by businesses, universities, and other organizations. The app also allows average users to earn money by participating in paid surveys and activities, which are known as 'missions'. Participants from most countries are accepted.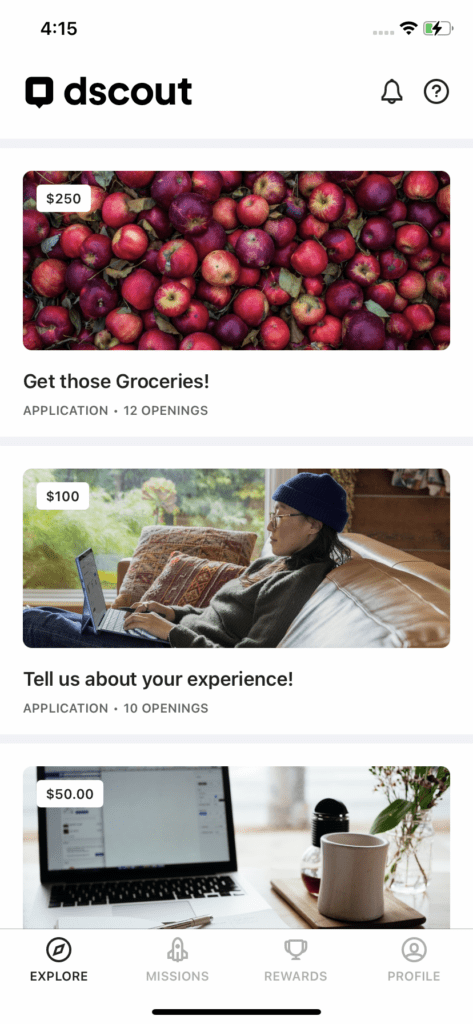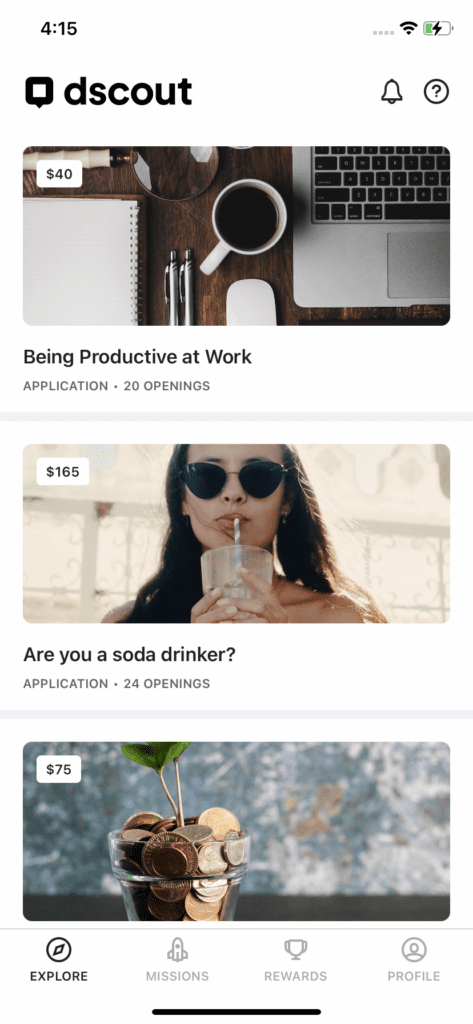 How Does Dscout Work?
The Dscout app is available for both iOS and Android devices. Once you download the app, you can create a profile and start participating in surveys and activities right away.
There are three types of missions you can take:
Live Missions: Face-to-face video interviews with researchers at a scheduled time.
Diary Missions: Videos recorded on your own time.
Express Missions: Quick tasks usually answer a few question or make a short video.
Live Missions will usually take 30 minutes to 1 hour on average. You will answer many questions from the interviewer and speak on your experiences on whatever topic the research is on.
Diary missions usually ask for a 5-10 minute video of you answering a specific question, interview-style. Some may require a short video every day over the course of a week.
Express Missions are a bit different from the Live and Diary missions. These are quick tasks, usually answering a few questions or recording a short 30 second to 1 minute video answering a question. Express Missions pay out a max of $5 per mission, but usually are around $2-3. The great thing about Express Missions are they pay out right away. After completing an Express Mission, payment will be immediately sent to your PayPal.
Why Don't I See Express Missions?
According to the Dscout Help page.
'There are two reasons you might not see Express missions in your Explore tab: (1) you're not qualified (yet!), or (2) you're outside of the United States.
In order to qualify for Express missions, you'll need to establish a history of high quality responses. To do this, continue submitting applications via the Explore tab, and check out these best practices on how to increase your chances of getting selected for missions.'
When you sign up for a mission, you will be told upfront what kind of mission it is. If you are uncomfortable with the task for any reason, you can always opt out without any penalty. There seems to be a large pool of participants applying for missions with only a limited number of positions so it may take a few weeks to hear back after applying.
The Best Glasses to Protect Your Eyes From Blue Light Screens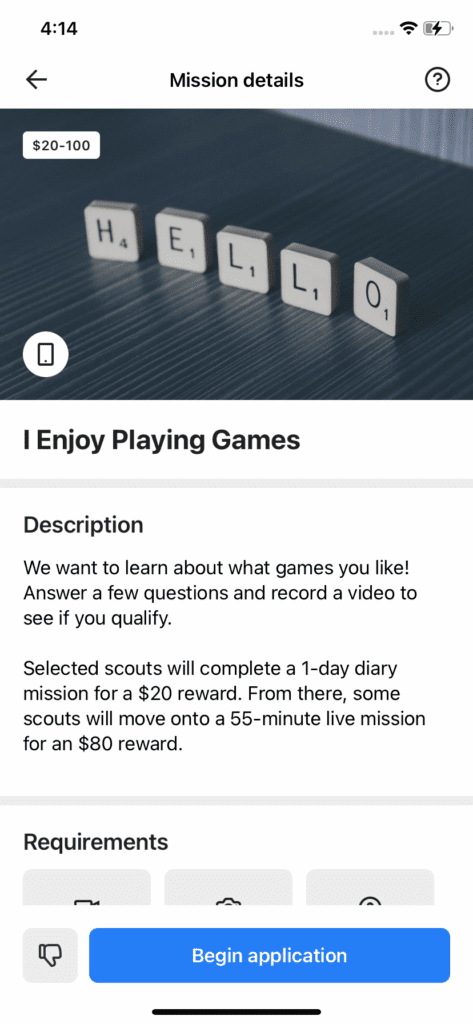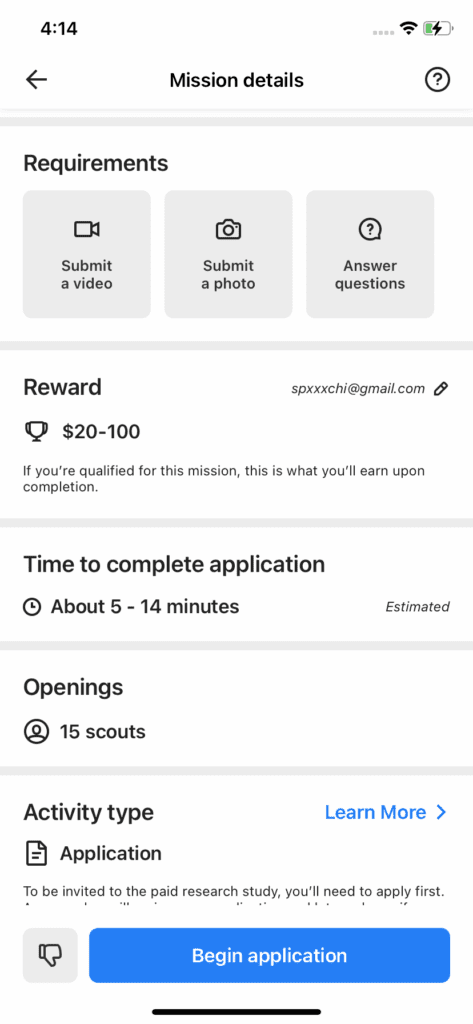 Is Dscout Legit?
Yes, Dscout is a legitimate company that has been featured in major publications such as Forbes, Mashable, etc. The company has an A+ rating with the Better Business Bureau (BBB). Additionally, Dscout has a 4.5-star rating on the App Store with over 2,000 ratings. It is a popular work-from-home, remote work app with users on popular sub-Reddits like /r/BeerMoney.
How Much Does Dscout Pay?
All missions have different payouts depending on the task but the range falls between $10-$250 per mission. The self-recorded diary missions usually tend to be on the lower end and the live interview missions earning the most.
You will be paid for each survey or activity that you complete. Payouts are sent about a week after the mission is completed, often sooner, sometimes later- it depends on the people running the mission. For the most part, payment is usually always prompt and received as expected. Payments are made only through PayPal at this time.
Going off of users on popular online work forums and communities, it seems the average user completes about 3-5 missions a month earning around $250-$600 a month. Of course there are users who claim to never have been accepted to any missions, while others claim to make over $1,000 a month.
All missions have different criteria and requirements they're looking for. Sometimes it's obvious by the mission description exactly what kind of participant they're seeking. Others may leave you a bit confused as you may seem like a perfect candidate but are rejected. Fortunately, there are always new missions popping up daily. It's best to apply to a few at a time since it may take a little bit to hear back from them.
PROS of Working for Dscout:
-Remote work, work from home
-Many missions available
-High paying surveys around $10-$250 per job
-Interesting work
-Reliable pay
CONS of Working for Dscout:
-May take a while to hear back after applying
-May get rejected when applying for a mission for not meeting requirements or any random reason
-Most missions require you to be on webcam or video
-Can get payment declined for poor quality
Conclusion
If you are looking for a legitimate way to make some extra cash remotely, then Dscout is a great option for you. The company is well-established and has a great reputation. Additionally, the app is easy to use and available for both iOS and Android devices. As far as survey work, it's one of the top paying survey sites along with Prolific. Dscout is at least worth giving a try. You may be surprised at how much fun you have while making some extra cash! Join Dscout now.